Warsa Enterprise Starts Publishing High Quality Content to YouTube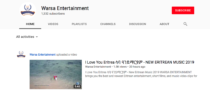 by EritreaCompass
Through its entertainment channel Warsa Enterprise has started publishing high quality videos to YouTube, the quiet launch saw remake clips by Nahom Yohannes Meste on Tewelde Reda's timeless "Shegey Habuni" and Wesi Shiek's "Baburay" amongst others also a musical of "Serihit Comando" based on EPLF's Commando unit assault on Ethiopian Airforce base at Asmara airport.
Produced by Warsa Enterprise and organised by the Cultural affairs of the PFDJ (Peoples Front for Democracy & Justice) the channel will play a positive role within the Social Media sphere and will give it a new dimension.
The main driver of publishing content on YouTube for the purposes of monetisation has seen its pros and cons, nonetheless a channel fit enough with Eritrea's national philosophy free from the commercialisation of Eritrean creativity looks set to put back the balance. The quality of production, and content speaks for itself, below are some of the video published to date.