"The Berlin Conference" of June 2021 – Ethiopia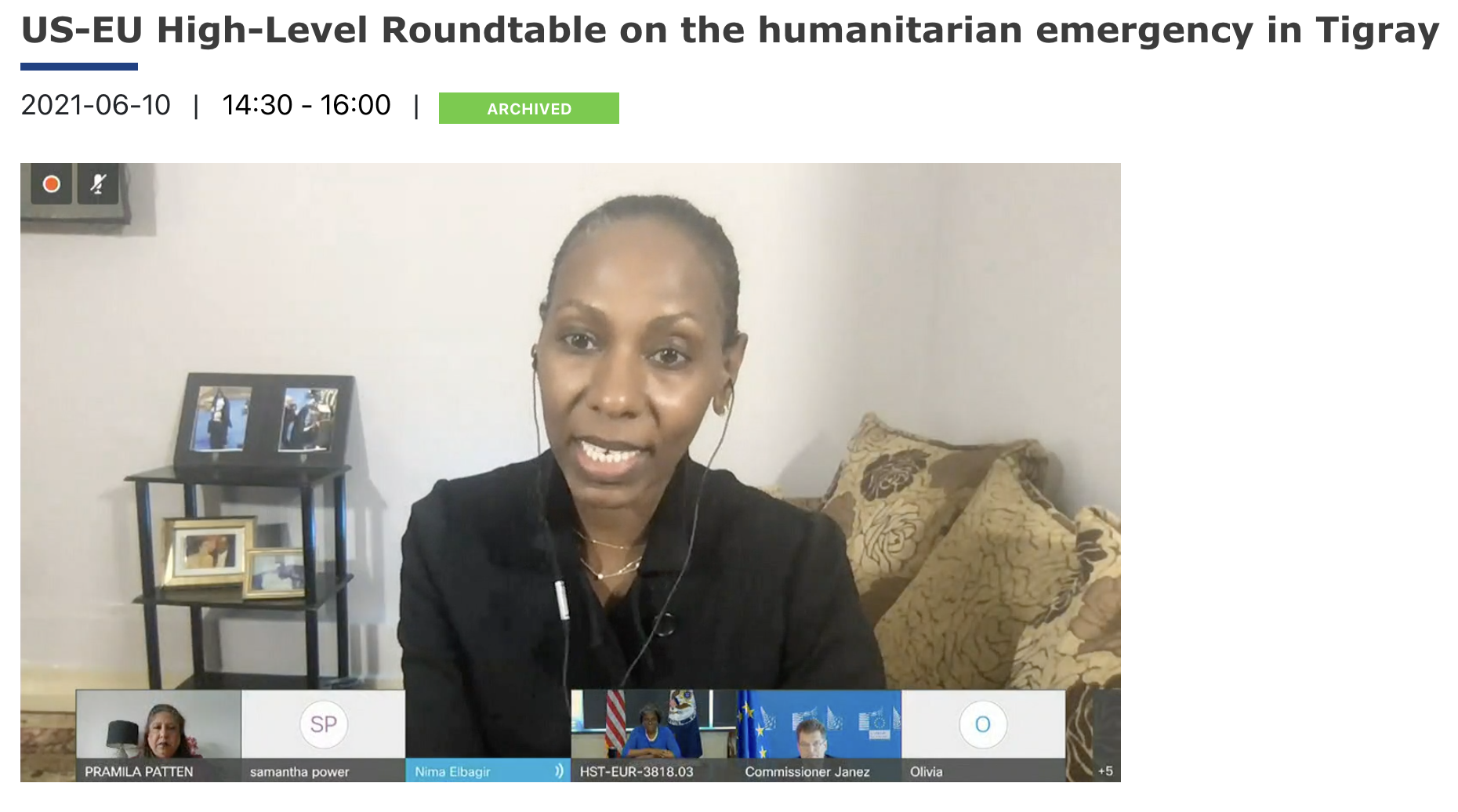 "The Berlin Conference" of June 2021
A Google search of "The Berlin Conference" came up, among others, the following: "The Berlin conference was significant due to the major role it had in the colonization of Africa. It gave European nations the opportunity to take control of Africa and disregard the Natives that were there before them and just do what they wanted to do." [Emphasis added] This conference which took place between November 15, 1884 and February 26, 1885 basically allowed the then European powers to carve up the continent of Africa amongst themselves in total disregard to the nations, people and tribes that were living (and by extension are still living) in Africa.
This morning, June 10, 2021, I watched a video conference call hosted by none other than CNN correspondent Nima Elbagir that had a group of panelists including Nima Elbagir; Linda Thomas- Greenfield (United States Ambassador to the United Nations); Janez Lenarčič (EU Commissioner for Crisis Management); Jutta Urpilainen (EU Commissioner for International Partnerships); Samantha Power (Administrator of the United States Agency for Development Aid (USAID)); Mark Lowcock (UN Under-Secretary-General for Humanitarian Affairs and Emergency Relief Coordinator); Jan Egeland (Secretary General Norwegian Refugee Council; Pramila Patten, United Nations Special Representative of the Secretary-General on Sexual Violence in Conflict and Jeff Feltman, United States Special Envoy for the Horn of Africa – quite a high profile meeting by most standards. They had brought together people from "both sides of the pond" – the US and Europe, for the uninitiated – to discuss the situation in Tigray region of Northern Ethiopia. The strange thing about this conference was that aside from the African-born, British Nima, there wasn't a single African let alone Ethiopian on the panel! This immediately brought back flashbacks of how it must have felt back in Berlin in the 19th century when a not-too-unsimilar group of people came together and discussed the fate of Africa and Africans.
A persistent and deliberate theme during "Berlin 2021" was the call for Ethiopia to "give unhindered and unconditional access to [thousands] of aid workers" to go into Tigray region with their own communication and logistics equipment in order to avert a famine the likes of which have not been – according to the panel – seen since Somalia 2013! The talk was about "putting pressure" on Ethiopia to do away with its sovereignty – we are talking here about the one country which Berlin 1854 did not carve up – and let in thousands of "humanitarian workers" roam around this troubled province, providing support both materially and morally to the remnants of the TPLF and its supporters and enable that terrorist-labelled group to re-group, re-arm and re-feed itself so that the same misery that the panel is trying to prevent will be escalated and allowed to continue this time with a well-fed and well-armed (they are already very well-financed) TPLF!
Forgive me for my naivety when I ask "who gave this group of panelists and the powers behind them the right to dictate to the Ethiopian government what that government should and should not do especially in a matter that is directly linked to national security and sovereignty?" Has the clock been wound back to 1854 and do the Europeans and the Americans really think that when they say jump, Africa and specifically Ethiopia will have to answer "how high"?
The other underlying theme noticed during this conference was the total absolution of the TPLF and its forces of any responsibility, guilt or source of any atrocity, crime or act of war when in reality the blame lies solely at the door of the TPLF in the first instance and once they were thoroughly defeated militarily they set their lobbyists loose and their well-oiled Goebel-like propaganda machine has been in full gear and which – in addition to a skewed US Administration policy – is why such conferences are even taking place. If the panelists and their governments are indeed serious about stopping the suffering of the Ethiopian people, of which the Tigrayans are part of, then why is there no call on the TPLF to lay down its arms and let unfettered access in the pockets of territories they claim to be controlling? Why is there never a single report where a raped woman has come forward to claim that she was raped by a TPLF soldier or a Tigrayan militia member when the reality is that sexual violence was quite rampant in Tigray region even before the current crisis? Is it because they are above such heinous acts or is nobody on the panel seeing a distinct pattern of biased (and in all probability coerced) line of "witnesses" and "victims"? When will people realise that as horrific as the alleged crimes are, jumping to the wrong conclusion and falsely accusing people will in the end harm not only those that have gone through these ordeals but will also harm future victims? Why can't we use "alleged" when we do not have enough evidence to convict someone of a crime without even hearing of the other person's side of the story? When, as one of the panelists blatantly accused Eritrean soldiers of some of the atrocities without any concrete evidence, is it not conviction without trial? Where have the principles of "innocent until proven guilty" dissipated to? Or do they not apply to Africans? Doesn't this reek of the same arrogance, colonialist and imperialistic spirit of the original Berlin conference?
That being said, there is no denying that we have a situation in Tigray and other parts of Ethiopia which as the panel correctly alluded, has ramifications to the whole region. Governments or individuals or other organizations who would like to see an end to this crisis need to understand that sidelining the sovereign government of Ethiopia in decision making is not the way to go. Sanctioning Ethiopian and Eritrean government officials but not doing the same to the TPLF leaders is not only inexplicable but strips this or any other panel of any legitimacy or credibility for finding any sort of solution for the crisis. Does it perhaps have to do with the fact that if TPLF leaders are sanctioned, the billions of dollars that they have embezzled from the Ethiopian people and now sitting in banks in the US and Europe, among others, might no longer be used to garner the type of lopsided support exhibited by a good portion of the panel participants and the lobbyists running around western capitals?
If for some inexplicable reason, the participants of this conference feel their personal and national interests lie with the now-defunct TPLF or its future reincarnation, it would be best to remember that Ethiopians are fiercely protective of their long independence history of their country and will not think twice about foregoing any "aid assistance" that the West will deny them if it means sacrificing their independence. The Battle of Adwa is one of the most celebrated victories not only in Ethiopia but also in Africa. It would bode well for such panels to take these things into consideration before they belittle and downright insult a sovereign country such as Ethiopia.
Lastly, one of the questions asked by the moderator was along the lines of "what do we do next?" to add my two-cents worth of advice, start treating Africans in general and Ethiopians in particular as sovereign nations and not as pieces of cloth that you can cut up and share amongst each other as did your ancestors at that fateful conference in Berlin over a century and a half-ago!
Berhanu Abera