Eritrean Ethiopian Demonstration against the Killing of Eritreans in the Tigray Region of Ethiopia by the terrorist group TPLF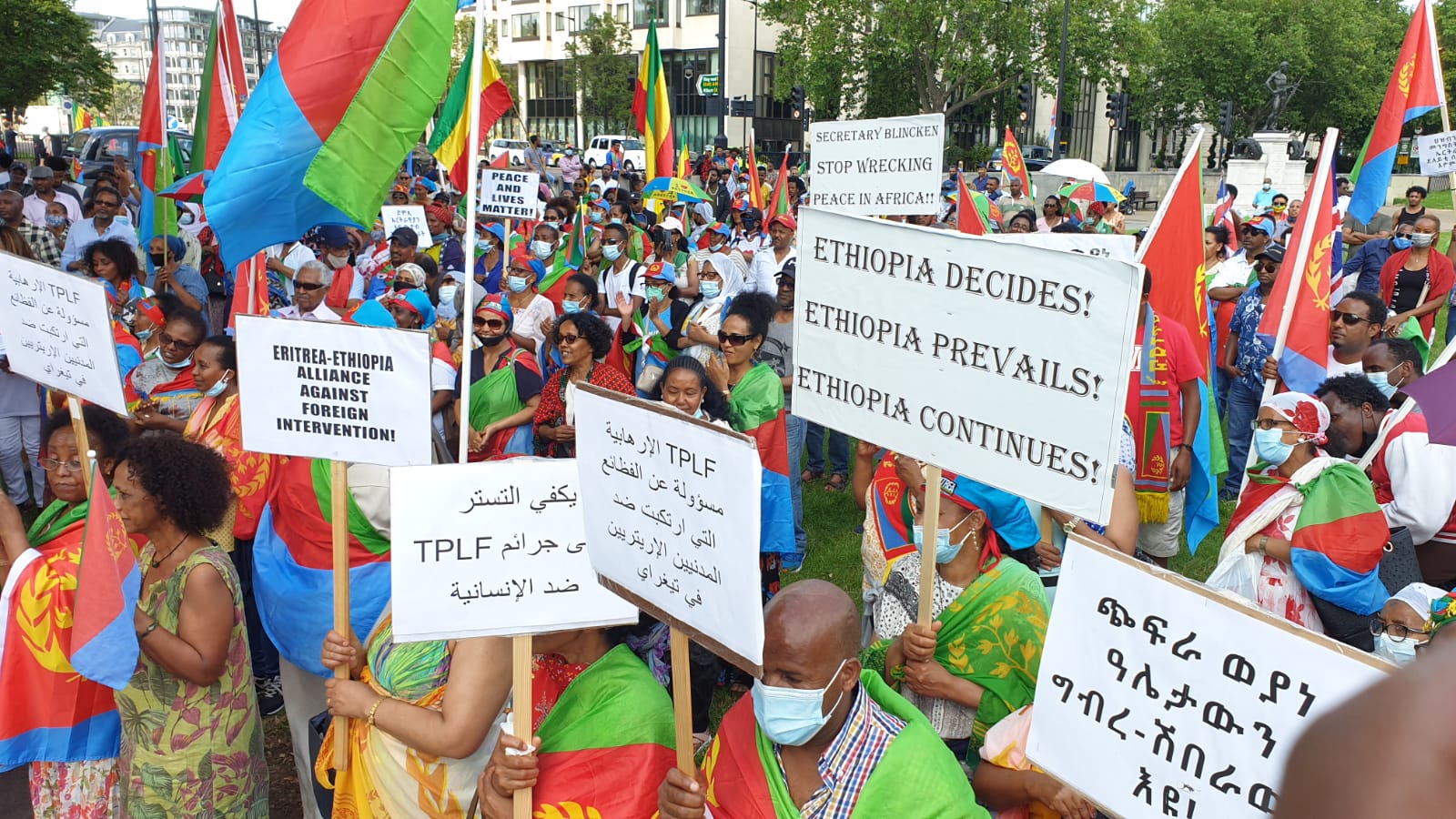 On a hot summer July Sunday afternoon in the heart of London just a stone throw away from Buckingham palace, within earshot of her Majesty and under the watchful gaze of the statue of Duke of Wellington ­— the British hero who defeated Napoleon at Waterloo — Eritreans and Ethiopians gathered together to raise their voices in unison to protest about the killing of innocent Eritreans in the Northern Ethiopian region of Tigray at the Duke of Wellington Place in London.
Eritreans from across the United Kingdom and as far away as Manchester, Leeds, Liverpool, Birmingham, Nottingham, Coventry, and Middlesbrough descended London in a show of solidarity with their fellow Eritreans who are suffering at the hands of the TPLF — a group designated as a terrorist organisation by the Ethiopian Parliament.
Speakers representing the Eritrean communities in Birmingham, Manchester, Leeds and London all stressed the need for the International Community to take swift action to protect innocent Eritrean citizens from the rampaging TPLF forces, who have been dealt a decisive blow by the Ethiopian armed forces and which are now funnelling their anger and frustration towards unarmed Eritrean civilians in the Tigray region of Ethiopia.
The speakers and those who had been gathered there, be they Eritrean or Ethiopian, unanimously called upon the UN, the EU, the UK government and all other international organisations who have a vested interest in the matter, to waste no time and move to protect Eritrean civilians who have been caught in the crossfire.
The silence of the western media and its failure to highlight this unfolding tragedy was condemned by all, as so was the lack of action by the self-declared human rights advocates like Amnesty International and Human Rights Watch.
The demonstration was peaceful and respectful but nonetheless still managed to convey powerful the message of the urgent need to protect the lives of innocent Eritreans who are being subjected to horrendous atrocities by the remnants of the TPLF.
Eritrean lives matter! Stop the killing of Eritrean civilians in Northern Ethiopia.
Sunday 18th July 2021.