Eritrean & Ethiopian Communities in London held a Joint Peaceful Demonstration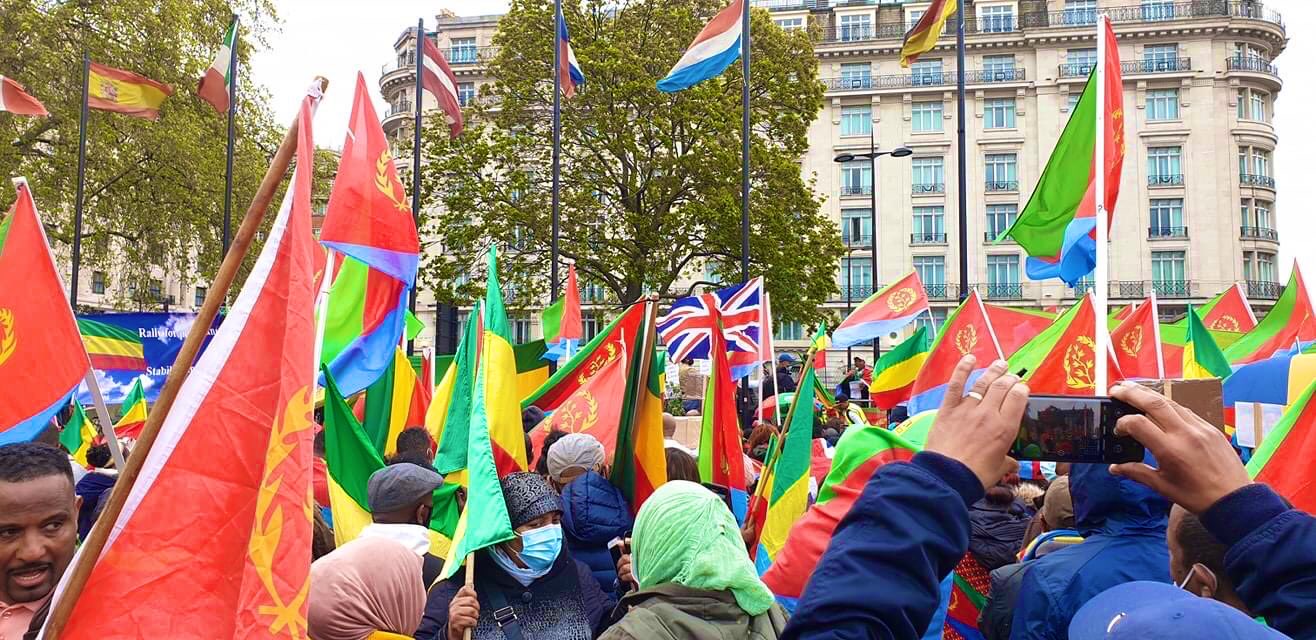 London, 03 May 2021
by Embassy Media
On a blustery May Bank Holiday Monday in a wind swept Marble Arch, Eritreans and Ethiopians came together to peacefully demonstrate calling out against the unnecessary and unwarranted intervention of the US and UK in the affairs of the Horn of Africa.
For a few hours, parts of Hyde Park, Oxford Street, Marble Arch, Bayswater and Edgware road were reverberating to the beat of Eritrean and Ethiopian songs that were blaring out from the centre of Marble Arch where a large number of Eritreans and Ethiopians had come together to voice their concerns about what they considered to be the destructive role being played by the western governments, and the western media which seems determined to undermine the governments of Eritrea and Ethiopia and plunge the region into unimaginable chaos.
The demonstrators called on the western media to refrain from spreading unsubstantiated and malicious lies about events in Ethiopia.
In particular the Eritreans expressed their dismay at attempts by the western press and western organisations to maligned the proud history of the Eritrean army and called upon these organisations to respect the history of Eritrea and treat Eritrea with the dignity it deserved.
Ethiopians on their part called on the targeted ethnic killings in parts of the country as a means of destabilisation and also showed their support to the Nile Dam and also called on outside interfering forces to stop trying to undermine Ethiopia.
The Ethiopians took the opportunity to express their gratitude towards Eritrea and reiterated the message of the Ethiopian prime minster about Eritrea being a true friend of Ethiopia and generations of Ethiopians would be greatly appreciative of the positive role that Eritrea has played in the region.
3rd May 2021 showed us what can be achieved when Eritreans and Ethiopians join forces for the common good of the people of the two countries.