Africa Talks – Has the Horn Averted Disaster?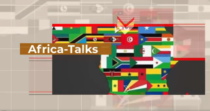 Appearing on Africa Talks, Mr Yafet Zerou from Eritrea, Mr Zelalem Tessema from Ethiopia, Mr John Graversgaard from Denmark, Mr Martin Zimmerman from Germany and Ms. Ruby Sandhu from the UK, discuss the causes and implications of the current situation in the Tigray Region of Ethiopia in regards to the Horn of Africa and beyond.
The participants try and present an alternate view to what the main stream/western media is tying to promoting. The recent media and human rights groups attention to the matter has become a main talking point beyond social media and has created a diplomatic tension with shuttle diplomacy taking place between the US, EU and Ethiopia.
The view takes into account the history of the region, which includes the negative role the TPLF has played in the region for several decades and also tries to understand who is ultimately responsible for the humanitarian issue that unfolded. They also touch upon the history of the Eritrean armed struggle and the conduct of Eritrean forces during war.
Part 1
Part 2
Part 3
Part 4
Part 5
Part 6
Part 7
Part 8